These stairs - that look very un-Dutch, they remind me more of Paris, or some other European city - lead to another hidden landscape in the middle of the city.

My son and I explored this area together and we have seen just a small part of it.

The streetcar and the higway cross the railway lines here.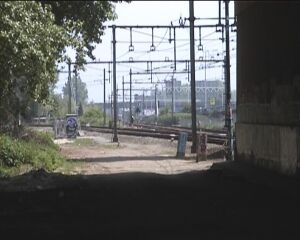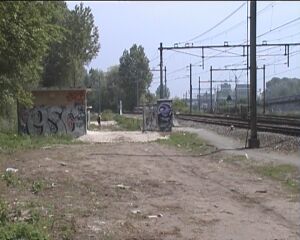 Looking west.

This railway is very active. It's one of the busiest connections in the Netherlands and it runs between Rotterdam and Utrecht.

The 13 sign means you that the train can ride 130 km/h here.
The other arch of the railway is not very much in use. We looked carefully and then we investigated this romantic electricity substation. It was still in use and there was no way to get inside.

NS = The Dutch Railway and indeed it uses 1,5 KV for it's electrical locomotives.

Some tracks had not been used for ages.
The rubble and garbage under the viaduct. Homeless people sometimes sleep here. And my son is re-vandalizing and already vandalized bicycle.
The gardens will have to make way for the high-speed railway link that is being built here. Most of the shacks were deserted and vandalized.

Glass-houses were first covered with graffit, and then smashed into pieces. The remains looked like abstract artworks.