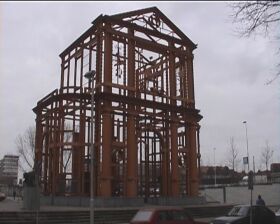 I've been looking at this artwork for a very long time. You can't miss it, it's located next to one of the busiest roundabouts in the city centre. Skaters use the stairs as a practice spot.
The artwork is a full-size reconstruction of the last city-gate of Rotterdam. The original was destroyed during the German bombardment in WWII. It is made of steel beams, pipes, plates and ornaments. To emphasize the reconstruction it is painted a bright technical orange.
It should be easy to climb because there are a lot of ladder-like structures along the vertical beams and a lot of complex ornaments at the top. The only complication are the police headquarters at the other side of the road. As yet this route is unclimbed.