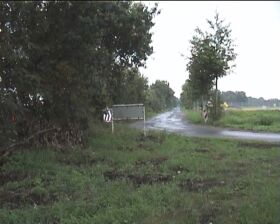 The border, looking North. On the left is Holland (East). On the right of the bushes is Germany (West). The border is indicated by a shallow ditch and a shallow mound, overgrown with brambles and bushes.
The official border marker is extremely well hidden. It took me a lot of bramble scrapes to get close to it so I could read the number.

160 XI - Hooray! I still don't know if there is any system in the numbering. I have to do some historical research. It should be interesting.
A very photogenic Dutch pumping installation. It reminds me of Robert Smithson's eassay "A tour to the monuments of the Passaic." It said: "Quicksand, danger of drowning."
A German pumping installation. Of course it is provided with a lot of warning signs and typically German legislature.

Explosion! No smoking, no fire! Gründlich!